'Bayonetta' Lore: Umbran Tears of Blood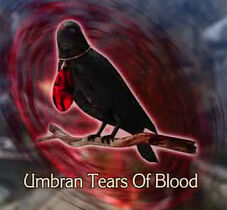 The Umbran Tears Of Blood are a series of collectibles that can be obtained throughout the games: Bayonetta and Bayonetta 2. They take the form of crows with a shining red aura and a blood-red jewel worn around the neck, though they require speed to capture due to their habit of flying away when approached. The crows will return to their perch once Bayonetta walks away.
In Bayonetta, the Umbran Tears Of Blood are obtained through collecting both the crows and completing Achievements/Trophies and give one Tear for every one completed. There are a total of 101 Umbran Tears Of Blood to find. Obtaining all of them unlocks the Climax Brace.
In Bayonetta 2, the Umbran Tears Of Blood are obtained through the collection of Umbran Crows which give the player a stamp that can be used to upload to the Miiverse. They can also be obtained by completing the Bewitchments of the game. There are a total of 20 Umbran Crows and 30 Bewitchments, giving 50 total Tears to find. 
The Witches' Tears of Blood
From Antonio's Notebook:
Beginning in the 15th century, the whole of Europe has been swept by a madness; a tragic event unprecedented in the whole of human history – the witch hunts. As a result, the dark clan of Umbra Witches were wiped from the pages of history forever. Working at the behest of the powers that be, and making use of their ancient magical arts, the witches watched over the passage of time within the human world.
Or at least they did, until suddenly being swept up in waves of persecution, and finally crumbling away under the pressure of the people's harsh recriminations. The women's sorrowful blood-stained tears crystallized into bright red gemstones, and according to Vigridian legend, are said to be scattered everywhere. These stones, filled with their feelings of regret, are known as Umbran Tears of Blood.
To this day, the people of Vigrid believe that should one hundred of these stones be brought together as one, enormous calamity shall befall the land. Yet, no one has actually seen one of these gemstones, the ultimate of witchly souvenirs. They must be found for you by a crow, a beast whose heart lies in resonance with the departed witches. These crows act as the witches' loyal servants, protecting their tears from falling into human hands.
Locations (Bayonetta)
Please See Umbran Tears Of Blood/Locations (Bayonetta)
Locations (Bayonetta 2)


Community content is available under
CC-BY-SA
unless otherwise noted.