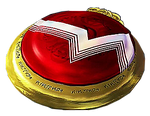 During the trailer for the second game, Bayonetta 2 at E3 2014, it was revealed that the original Bayonetta would be receiving a port for the Wii U which would be included with its sequel at release. The port includes some new Nintendo themed costumes that change certain mechanics of the game. During the Bayonetta 2 Nintendo Direct, it was also revealed that these costumes would be included in Bayonetta 2 as well.
The new costumes were chosen by the original Bayonetta director Hideki Kamiya. In Bayonetta, all costumes are available by default. In Bayonetta 2, the player needs to first buy the Super Mirror 64-2 from The Gates of Hell, then buy each individual Couture Bullet to unlock the costumes. (though the Star Mercenary outfit is available by default after the Super Mirror 64-2 is bought)
Costumes
Bayonetta & Bayonetta 2
Hero Of Hyrule
Mushroom Kingdom Princess / Sarasaland Princess
Galactic Bounty Hunter
Bayonetta 2 Only
Star Mercenary
Weapons
In Bayonetta and Bayonetta 2, Bayonetta can gain access to a few Nintendo weapons as well, some restricted by outfit, some being skinned versions of another weapon, and some being completely unique.
Bayonetta and Bayonetta 2
Set Slot: Hands
Element: Light
Wicked Weaves: Wicked Sword Slashes & Wicked Sword Stabs (Hands)
Used when wearing the Link outfit and equipping Shuraba
Description: The mythical blade wielded by the Heroes of Hyrule, those who posses the Spirit of the Hero and Triforce of Courage, to banish great evil. Its power is legendary, and the blade itself can cut down the most powerful of monsters with relative ease. When Bayonetta wields it, she uses it as she wielded her katana, Shuraba, in the first game, sharing its Wicked Weaves and Charge Modifier.
Bayonetta 2 Only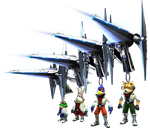 Set Slot: Hands & Feet
Element: Energy
Wicked Weaves: Wicked Punches (Hands) & Wicked Kicks (Feet)
Used when wearing the Fox outfit and equipping Love is Blue. Fires energy shots and can be charged for a stronger single shot.
Description: Love is Blue altered by the Fox McCloud outfit. It replaces its original shape and coloration for that of an Arwing, losing its original charms for plushes of the four main characters of the Star Fox series: Fox, Falco, Peppy and Slippy. It seems to use some sort of energy over the magic that made Love is Blue function.
Set Slot: Feet
Element: Nintendo
Golden LP: Super Mario 64
Wicked Weaves: Giant Chomp projects
Description: A strange, almost novelty weapon that can at least be attached to Bayonetta's feet. It seems to have a mind of its own, being able to seek enemies out to attack once Bayonetta kicks out. The Chain Chomp is a popular enemy from the Super Mario series, and has found its way into numerous The Legend of Zelda games and spin-offs, as well as Bayonetta 2. Its Umbran Elegance makes Bayonetta don Mario's famous hat, but with a B over the standard M. A false mustache and nose are added to Bayonetta's glasses, fulfilling the similarity. When used with Jeanne, she wears Luigi's hat with a J on it, also wearing a false mustache.
Stamps
Bayonetta 2 features in-game Collectible Miiverse Stamps for use in the Bayonetta 2 Miiverse Community. These are unlocked by collecting all 20 Umbran Crows.

Gallery
Trivia