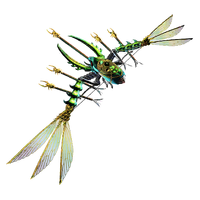 Kafka
is a new bow weapon in
Bayonetta 2, 
similar to the
Angelic Bow
weapon used by high ranking
Applaud
in the first
Bayonetta.
 The bow has a dragonfly motif and inflicts extra damage to enemies that its arrows hit with a brief poisonous effect.
In Game Description
"A bow and arrow made with a man who one cursed another and who in turn metamorphosed into a hideous insect.
Still living inside a part of the bow's frame, he fires cursed arrows of savage, venomous bugs."
How To Obtain
The Golden LP for the weapon appears near the entrance to the area after completing Verse 5 in Chapter II. It is also the second weapon to be found in order, following the Rakshasa.
Unique Traits
If using a Bullet Climax, Kafka can quickly fire a barrage of arrows in rapid succession at an enemy for the cost about 3 orbs from the Magic Gauge, and also has the ability to charge its attacks to increase damage. Targeted enemies hit by the arrows will be poisoned and will suffer extra damage and the target's movement will also be slowed down.
If the player activates Umbran Climax with Kafka equipped, the arrows are replaced with a giant, demonic dragonflies named Carnage instead of summoning other larger demons as other weapons do. Kafka also has an Umbran Elegance which gives Bayonetta a Robin Hood-style hat and scarf.
Samsa
Samsa is
Jeanne's
equivalent to Kafka. It is colored red and orange as opposed to Kafka's primarily green color.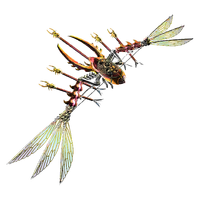 In-Game Description:
"A bow containing the soul of a man who was transformed into a poisonous insect, disowned by his family and cast into the depths of Inferno. The bugs decorated across this bow are all alive, and constantly producing deadly toxins. Those struck by arrows from this bow will be susceptible to sicknesses of all kinds."
Gallery
Trivia
Kafka is a reference to the early 20th Century Austria-Hungarian writer Franz Kafka and his novella "The Metamorphosis". The story is about a young man that wakes to find he has turned into an insect. This is fitting given the dragonfly motif that the bow possesses as well as the dragonflies that it can summon in Umbran Climax.

Samsa is the surname of the very man in "The Metamorphosis" who was transformed into an insect, Gregor Samsa.