Hideki Kamiya, born December 19, 1970, is the sole director of the original Devil May Cry game series and other famous Capcom games like Resident Evil, Viewtiful Joe, and Okami. After the low sales of Okami and God Hand, his original studio, Clover Studios, went defunct, and he and most of the other employees went on to forming Platinum Games, who became famous through Bayonetta and Metal Gear Rising: Revengeance.
Career
After graduating from college, Kamiya applied to various game developers. He was turned down by SEGA and, had an application with Namco. However Namco wanted Hideki to be a game artist rather than a game director. He later worked with Capcom in 1994 as the planner of Resident Evil, and the director of Resident Evil 2. He was later the director of Devil May Cry, Viewtiful Joe, and Okami. In 2006, Clover Studios shut down due to poor sales of Okami and God Hand, so Kamiya, and his colleagues went on to forming a new company Platinum Games, which then made the game Bayonetta for SEGA.
Games
Directed
Involved in
Arthur to Astaroth no Nazomakaimura: Incredible Toons (PlayStation/Sega Saturn, 1996) (Planner)
Resident Evil (Playstation/Sega Saturn, 1996) (System planner)
Resident Evil Zero (Gamecube, 2002) (Original game design)
Phoenix Wright: Ace Attorney (Nintendo DS, 2004) (Godot's Japanese voice actor)
Viewtiful Joe 2 (GameCube/PlayStation 2, 2004) (Story)
Viewtiful Joe: Double Trouble! (Nintendo DS, 2005) (Story)
Bayonetta 2 (Nintendo Wii U, 2014) (Supervisor)
Astral Chain (Nintendo Switch, 2019) (Supervisor)
Appearances in Media
The Wonderful 101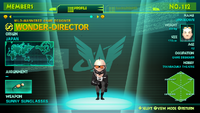 Hideki Kamiya make his playable appearance in Video Games as an unlockable character in The Wonderful 101. Described as a Mild-Mannered Game Designer from Japan, his super hero name is Wonder Director. His weapon in this title is the Sunny Sunglasses.
Gallery
External Links