Bayonetta 3 Teaser Trailer
Play Sound
This page or section contains information about a product in development.
The following content has been marked as speculative until proven by an official source. This includes information on content still in development and subject to change.

Bayonetta 3 (ベヨネッタ3) is an upcoming action video game in development by PlatinumGames, and published by Nintendo, exclusively for the Nintendo Switch. It is the third entry in the Bayonetta series, following Bayonetta 2 in 2014, and is currently slated for a 2022 release.
Plot
"Mysterious life forms appearing to be neither angel nor demon attack amid the ravaged streets of the Shibuya area of Tokyo, where Bayonetta then makes a graceful appearance. Why is she in Tokyo? And how far-reaching is the invasion of this new enemy?" - Bayonetta 3 plot synopsis [1]
Development
Prior to the game's official announcement in 2017, in July 2013, a fan asked Hideki Kamiya on Twitter in that in the event that Bayonetta 2 is a success, if there would be a third game. Kamiya responded by saying "I hope so."[2] Yusuke Hashimoto, director of Bayonetta 2, was asked during a brief interview by magazine GamesMaster what game sequels he'd like to work on, saying it would be Bayonetta 3, mentioning that he already had "all kinds of ideas" in mind for "even more" sequels and a spin-off title.[3] When asked by another fan about what other hairstyles Jeanne would look good in, Kamiya responded with "The answer will be in Bayo 3."[4]
Bayonetta 3 was officially announced by Nintendo during The Game Awards 2017 presentation on December 7, 2017 with a teaser trailer, along with Nintendo Switch ports of the first two Bayonetta games.[5]
In April 2018, PlatinumGames studio head Atsushi Inaba told Eurogamer at Reboot Develop 2018 that the game would represent a "turning point" for the company, and mentioned that the game would be a "linear core progression action game" as its predecessors.[6]
During the Nintendo Direct that aired February 13, 2019, a new game developed by PlatinumGames exclusive to Nintendo Switch, Astral Chain, was revealed. After the reveal trailer, Yoshiaki Koizumi, general producer of Nintendo Switch hardware, gave a small update on the development of Bayonetta 3, saying the developers are "hard at work" on the title.[7]
Inaba was interviewed by Video Games Chronicle in May 2019 and remarked that with the game, PlatinumGames is trying to move from an "orthodox development process", hinting that the process changes would be noticed by players during gameplay, saying "Maybe the players will recognize this as well. And that's all the hints you get!"[8] Inaba told the publication in June 2019 during the E3 show, that the game's development was "going quite well."[9]
The first official trailer for Bayonetta 3 was revealed during the Nintendo Direct broadcast on 23rd Sept, 2021, where the game was confirmed to be releasing in 2022.
Trailers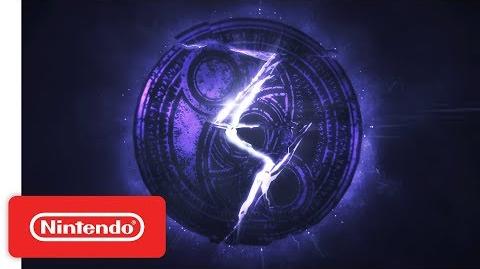 The trailer begins with a shot of the moon before a wash of blood red changes the colour. One of Bayonetta's ribbons floats through the air towards the screen before it rips itself into two. The scene then changes to show Bayonetta herself, sporting her look from the original Bayonetta, struggling to defend against an attack by an unseen force. As she is knocked back, she retaliates and fires a barrage of bullets at her enemy, but the shots are frozen in mid-air and diced apart by a strange electrical energy before they can reach their target. A glowing silhouette of a figure appears in the distance, rushes forward, and appears to split in two.
Bayonetta lands on her feet in a sea of bullet casings, the figure materializing in front of her before fading away on the wind. Bayonetta's legs then appear to fall in different directions, implying she has been bisected, and her guns bounce off the ground to form the Umbran seal which then cracks to form the number "3".
First Trailer
The trailer begins in the middle of the Shibuya area of Tokyo, where Japanese soldiers arrive to confront a mysterious gigantic enemy that is attacking the city. The soldiers quickly realise that their weapons have no effect, just as another of the monsters manifests behind them. Before it can attack, the monster is suddenly peppered with bullets from behind. As it turns around, Lappy of Astral Chain fame appears to have been the source of the shots and the monster goes to attack it. However, before the strike can hit, Witch Time is suddenly triggered at which point Bayonetta arrives to beat the creature down.
The rest of the trailer shows a first look at gameplay, confirming the return of familiar elements such as Witch Time, Torture Attacks and Wicked Weaves. However, Bayonetta now appears to be able to inflict multiple Torture Attacks at once on multiple enemies and now has a new ability called Demon Masquerade. With it, Bayonetta is able to temporarily assume the form of a demon that looks similar to Madama Butterfly in order to punch one of the larger creatures into a wall.
When Bayonetta is confronted with a towering giant creatures, she summons Gomorrah. The trailer than shows Bayonetta in direct control of the demon's movements as it battles the enemy, an ability known as Demon Slave, as she is also shown doing the same to Malphas and Phantsmaranae. The trailer concludes with Gomorrah rampaging through collapsing buildings and coming to blows with an even bigger monster before the release window of 2022 is shown. The date is then slashed in two by a sword wielding character draped in shadow. [1][10]
Gallery
For more pictures and screenshots of Bayonetta 3, click here.
Trivia
Though Bayonetta's guns in the teaser trailer resemble Scarborough Fair in their overall design, the inscription on the guns reads "Whittingham Fair", the name of a ballad that is related to the original ballad for Scarborough Fair. Bayonetta herself also has slight visual changes, with the sleeves of hair missing medallions and chains, the beauty mark she usually has missing, and she only wears one ribbon in her hair
Bayonetta's new look in the game itself is strikingly similar to her child self, Cereza, particularly with the double-braided hairstyle and larger frames for her glasses. Another reference to Cereza can be seen at the end of the trailer, where her Cheshire doll appears to be attached to the hilt of the mysterious character's sword.
According to official descriptions from both PlatinumGames and Nintendo, the new enemies in Bayonetta 3 are described as "neither angel nor demon". There are also specific mentions of "chaos", a question as to whether these creatures have invaded other worlds, and how far that invasion has spread.
References
Bayonetta
Main Games
Spin-offs
Adaptations
Related Games